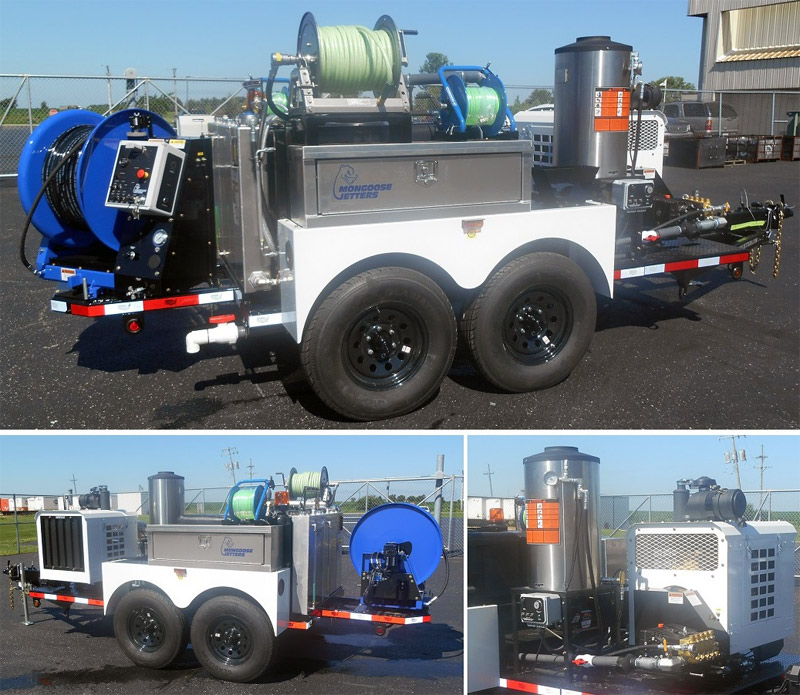 High Pressure Jetting is the Eco-Friendly Way to Clean Pipes
High pressure jetting provides an eco-friendly alternative to other pipe cleaning methods. Putman & Son's Plumbing offers this service at affordable rates. We will keep your system running smoothly while getting better results without the risk to the environment or your pipes.
What is High Pressure Jetting?
When most people think of clearing a pipe, they usually think of a plumber's snake or chemical products. Putman & Son's high pressure jetting service works differently but gets the same results. This method was introduced over 30 years ago and is still a powerful solution preferred by many professionals.
We use an industrial device that's similar to a pressure washer. It produces a high-pressure stream that we run through your system. This process can produce as much as 3,500 pounds of pressure and move between 12 and 14 gallons of water per minute.
The force of the stream will hit anything in the pipes, breaking it up and moving it through the system. This can work to clear complete and partial blockages.

The Benefits of High Pressure Jetting
If you are searching for a pipe clearing method that's safer on your system, effective, and environmentally friendly, high pressure jetting is a good choice. There are several benefits to choosing this service, including:
No Chemicals Are Needed – Only water is pushed through the pipes, which means that no harsh chemicals are required when jetting. You won't have to worry about any hazardous residue left in or around your home or business, and it keeps the local environment clean.
Removes Bacteria Buildup – Soap, grease, and bacteria tend to build up inside pipes. Jetting will force these substances out. This can prevent a blockage from forming and eliminates odors. Your pipes will be cleaner than ever after a high pressure jetting service.
More Cost Effective – Jetting offers a good value for the price. Purdue University conducted a study in 2013 that found other pipe cleaning methods to be less efficient. You end up paying more compared to the results you get for the cost of high pressure jetting.
Clean It All with High Pressure Jetting
Putman & Son's Plumbing can clean many parts of your system with our high pressure jetter. We can remove debris and blockages from downspouts, septic tank lines, parking lots, footer drains, and more. This service is ideal for commercial and residential customers.
If you aren't sure if high pressure jetting is the best option for you, let us know. We can assess your situation and provide professional advice that will help you get the best results.
Schedule Your Southeast Michigan Jetting Service Today
Is your system sluggish, smelly, or underperforming? High pressure jetting can help. Our experts are available to come to your Southeast Michigan home or business and get your pipes flowing again. Call us at (248) 652-0990 to schedule your high pressure jetting service.