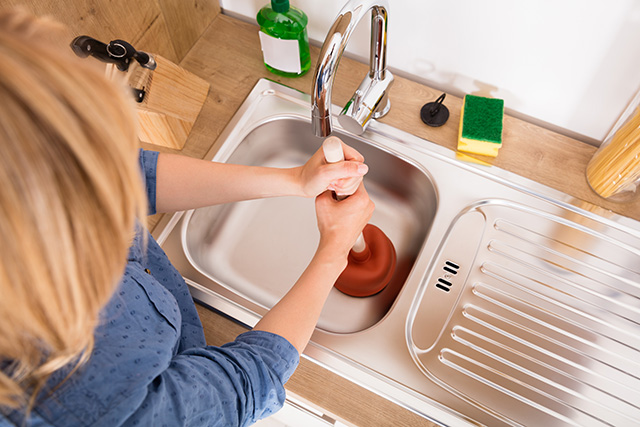 Fat, oil, grease, and food particles are the primary causes of clogged drains in a kitchen. Using quality dish soap, hot water, and a properly installed garbage disposal can help keep these substances from building up inside your pipes. It is better to collect used oil in a container and throw it out than to try to pour it down your drains. Even if you wash it down with a lot of hot water, you will experience some build-up.
Hair and soap scum are the usual culprits when bathroom drains have become clogged. When we shower, we all shed hair, and the soap scum locks those wet clumps of hair into a drain clogging ball. The easiest way to avoid this problem is to use a drain strainer in your shower and insist that every member of your family cleans it out after they wash their hair.
If you use these simple tips to avoid clogged drains, you may be able to prevent backed-up sinks and tubs. For preventative maintenance, pour about two cups of vinegar down your drains once a week. You can also run a pot of boiling water down the drain after the vinegar.
If you wind up with a clog, you may be able to clear the drain yourself. The two tools that work best are plungers and snakes. A plunger will work in a sink as well as a toilet. Make sure that there is some hot soapy water in the sink so that the plunger can form a solid seal. A bent hanger or simple snake you get from the store can clear hair clogs that are within reach.
If you're having ongoing problems with slow drains, or if you've got a clog that you can't clear, we're just a phone call away. Sometimes you need professional tools and techniques to open up stubborn drains.